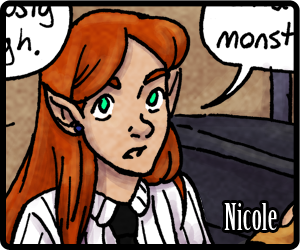 Masterman, Nicole
Age:23, born March 30, 1987
Height: 5'7″
Species:Human (elf)
Hometown:  River's Crossing, Virginia
Occupation: Liquor Store Clerk
Likes: cooking, alcohol, cute animals, science
Dislikes: accidentally setting things on fire, her physical appearance, babies
Nicole has lived her entire life in River's Crossing, and like the town itself she is highly magical but tries very hard to be ordinary. She'd like nothing more than to have a steady job and a steady boyfriend and to spend the rest of her life being boring. When she's angry or upset she has a tendency to literally burst into flames. Like most other elves this ability is highly specific and not particularly useful, and she has relatively poor control over it.
List of pages with Nicole on them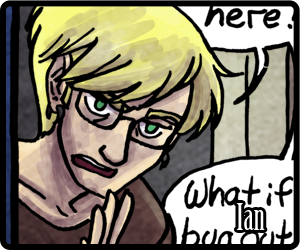 Taylor, Ian
Age:23, born July 6, 1987
Height: 5'8″
Species:Changeling (appears human)
Hometown:  River's Crossing, Virginia
Occupation: Web Programmer
Likes: video games, sci-fi novels, being human
Dislikes: dealing with idiots, organized religion, not being human
Like Nicole, Ian was born and raised in River's Crossing, or at least raised here, and the two of them have been best friends since they met in freshmen year of college. They moved in together after graduating, but are not romantically involved. Until recently Ian thought he was a perfectly normal human person, and is doing his best to stay that way.
List of pages with Ian on them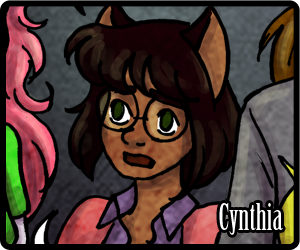 Niequist, Cynthia
Age:23, born July 30, 1987
Height: 5'4″
Species:Human (cat-person)
Hometown:  Atlanta, Georgia
Occupation: Waitress/Aspiring Writer
Likes: writing, animals, fictional murder
Dislikes: actual murder, creepy dudes, driving
Cynthia was born in rural China but was adopted by an American couple and raised in Atlanta, GA. She moved to River's Crossing to attend a mutant-friendly college where she was Nicole's roommate. They've been friends ever since. After graduating Cynthia decided to stay in River's Crossing to stay near her friends. She is working on a mystery novel in her spare time and hopes to become a professional writer.
List of pages with Cynthia on them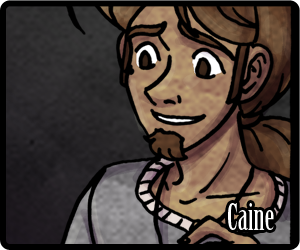 Kingsley, Caine
Age:24, born December 20, 1986
Height: 6'2″
Species:Human
Hometown:  Ashtabula, Ohio
Occupation: Department Store Stockboy/Aspiring Filmmaker/Videoblogger
Likes: movies, food wrapped in more food, cute girls
Dislikes: very little
Caine's always been kind of a happy-go-lucky sort of person, seemingly having few cares and never taking anything seriously. Despite this he's generally a hard worker and a loyal friend. Originally from Ohio, he moved to River's Crossing to take advantage of a college scholarship.  In his spare time he's working on a screenplay and making silly videos for YouTube. He's been trying to get his friends to be in the videos but so far they've all refused.
List of pages with Caine on them