Nicole and Cynthia by Number-36
on
June 29, 2012
at
12:00 am
Number-36 from Deviantart sent in not one, but two drawings. And man, they are awesome. I put Nicole on the main post, but also check out this picture of Cynthia she sent in.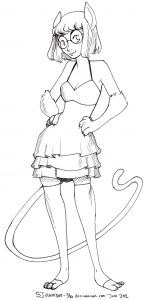 They both look fantastic! Thank you!
Also I believe I had one late entry from Oxytreza, check it out!
Chapter 3 starts up on monday!