Miguel by Niza-Niabock
on
June 20, 2012
at
12:00 am
Niza-Niabock sent in this picture of Miguel. It really captures his douchey grin, I think.
They also provided a larger version that looks like it could be a decent wallpaper.  Click the image for more biggering.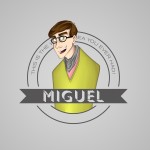 Also I've had a few people ask about still submitting something. I kind of have the whole time frame covered but if you still want to send me something send it in anyway. I'll link to it on the last post before we the comic comes back.